WANT TO SIGN UP A TEAM?
ALL YOU NEED IS A $60 DEPOSIT ($50 FOR A GIRLS TEAM) AND A TEAM NAME!
THE DEPOSIT IS INCLUDED IN YOUR PAYEMENT SO IF YOU PUT ALL THE MONEY TO YOUR NAME YOU WOULD BE ALL PAID OFF FOR THE SEASON.
IT COST $60.00 PER PLAYER PLUS $5.00 FOR A PLAYER PASS.
WE GIVE YOU 3 GAMES TO GET THAT PAID OFF, THE FIRST GAME IS A MINIMUM OF $20.00
CASH ONLY, ATM AVAILABLE!
THE LEAGUE LASTS 8 GAMES PLUS 2 MORE IF YOU MAKE PLAY OFFS
TEAMS MUST BE COLOR COORDINATED AND WEAR THE SAME COLOR SHORTS AND SHIRTS.
LOOKING TO JOIN A TEAM?
JUST CALL OR TEXT RICARDO AT (209) 233-4809 AND HE WILL HELP YOU JOIN A TEAM!
LEAGUES
MONDAY- LOWER GIRLS
TUESDAY- MENS GOLD
WEDNESDAY- UPPER GIRLS/ MENS 35&UP
THURSDAY- MENS SILVER
FRIDAY-MENS PREMIER
SUNDAY- 1ST DIV CO-ED, 2ND DIV CO-ED, 3RD DIV CO-ED
FOR MORE INFORMATION CALL/TEXT RICARDO AT (209) 233-4809
-------------------------------------------------
QUIERES INSCRIBIR A UN EQUPIO?
TODO LO QUE NECESITAS ES UN DEPOSITO DE $60 ($50 PARA UN EQUPIO DECHICAS) Y UN NOMBRE PARA EL EQUIPO! .
EL DEPOSITO ESTA INCLUIDO EN SU PAGO DE LA TEMPORADA, ASI QUE SI USTED PONE TODO EL DINERO A SU NOMBRE TU VAS ESTAR TODO PAGADOPOR LA TEMPORADA
COSTO $60.00 POR JUGADOR MAS $5.00 PARA UN PASO DEL JUGADOR
TE DAMOS 3 JUEGOS PARA CONSEGUIR TODO, EL PRIMER JUEGO ES UN MINIMO DE $20.00
SOLO EN EFECTIVO, ATM DISPONIBLE!
LA LIGA DURA 8 JUEGOS MAS 2 MAS SI LLEGAS A LOS FINALES
LOS EQUPIOS DEBEN SER DEL MISMO COLOR Y LLEVAR EL MISMO COLOR CHOR Y CAMISA
LIGAS
LUNES- MUJERES BAJA
MARTES- HOMBRE ORO
MIERCOLES- MUJERES ARRIBA / HOMBRES 35 Y ARRIBA
JUEVES- HOMBRE PLATA
VIERENES- HOMBRES PRIMERA
DOMINGO- COED
PARA MAS INFORMACION LLAME/TEXTO RICARDO (209) 233-4809
MERCED INDOOR CO-ED CHAMPIONS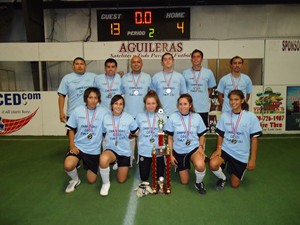 (Champions recieve championship shirts, medals, trophy, and bragging rights!)